Is CBD Legal?
There is a lot of confusion in the United States regarding cannabidiol (CBD). CBD from hemp is federally legal as long as it contains no more than .3% THC. But some states have put restrictions on buyers. Hemp, according to law, is defined as cannabis with very low tetrahydrocannabinol (THC), which is the molecule that can cause a high when heated. On the contrary, CBD derived from cannabis with high levels of THC is illegal in many states.

The confusion also stems from restrictions in farming. Unlike corn, wheat and other natural products, hemp has not been as easily farmed. However that is getting ready to change due to the passing of the 2018 Farm Bill. Until 2014, in the United States, the only legal hemp was imported mostly from Europe, China and Canada.
Legalization of Hemp
On February 7, 2014 President Obama signed the Farm Bill of 2014 into law. Section 7606 of the act titled, "Legitimacy of Industrial Hemp Research", defines industrial hemp as distinctly different from marijuana. It conveyed to Departments of Agriculture and Institutions of higher learning the ability to grow, cultivate, process and market hemp as long as research projects were conducted in accordance with state and federal laws. However, it wasn't until an August 2016, issuance of a Statement of Principles by the USDA (also co-signed by DOJ/DEA and HHS/FDA) that federal agencies had a legal basis for the broad federal acceptance of hemp.

The bill further states that as long as the Cannabis Sativa plant has less than .3% THC it qualifies as industrial hemp. It states growers can extract the CBD and its other cannabinoids from the flowers and leaves instead of the stalk, which is primarily used for industrial purposes. This bill was again passed in 2018, officially named the Agricultural Improvement Act. It passed in December 2018 officially legalizing hemp.

This was a major victory for the industry for several reasons. First and foremost, it removed CBD as a federally registered, Schedule I drug. It also puts no restrictions on the sale, transport, or possession of hemp-derived products, so long as those items are produced in a manner consistent with the law. The bill also opened access to farmers. Hemp will now be treated like other agricultural commodities in many ways. It will remain heavily regulated but become more of a mainstream crop. Farmers will also be able to seek protection under the Federal Crop Insurance Act. This act will assist farmers who face any unexpected crop losses. This protection was unavailable previously. Furthermore, section 7605 and 7501 extends the protections for hemp research and will allow scientists to conduct their studies more freely. This provision recognizes the importance and opportunity of the plant and the products that can be derived from it.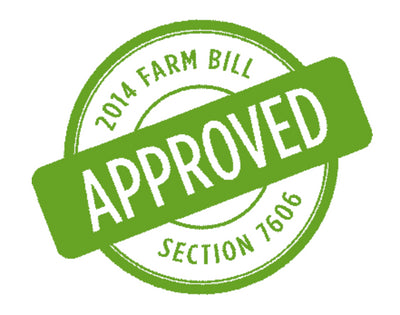 Where does CBD come from?
At CBD BioCare, our CBD suppliers comply 100% with the 2018 Farm Bill. Plus, they are all US-based, legal producers and distributors of the highest quality medicinal hemp available. Our farmers grow organically and 3rd party test every step of the process, beginning with the seeds.

Once the seeds are tested and approved, they are also tested in the field repeatedly to ensure that the plants are developing high levels of CBD and are free of contaminants such as heavy metals and pesticides. After harvesting the plants, they are tested again to confirm the final CBD levels and to once again ensure that the material is contaminant free. The distillate is then shipped to our manufacturing partner. The final formulations are then tested once again to verify accuracy, potency, safety and compliance.

When you buy from CBD BioCare you can feel confident that our products are not only legal, but also that it is the finest quality product available.

CBD Now Regulated in Florida
On June 25, 2019, Florida's Governor, Ron DeSantis, signed Florida Bill 1020, regulating CBD and other hemp extracts in Florida. As a Florida based company, this is important and exciting information. The bill makes Florida yet another state to regulate the hemp industry, which is good news for consumers and companies dedicated to doing it right. The new Florida law creates a state hemp program within the Department of Agriculture and Consumer Services to promote the cultivation, handling, processing, and sale of hemp, hemp products, and hemp extract.
"Hemp extract" is defined as a substance or compound intended for ingestion that is derived from or contains hemp and does not contain any other controlled substanc­es. Moving forward, no one can sell or distribute CBD in Florida without a certificate of analysis, (COA) prepared by a 3rd party testing facility. It must indicate the hemp extract is the product of a batch tested by the laboratory and that the batch contained a .3% or less THC or tetrahydrocannabinol. The testing results must also prove that the batch does not contain contaminants unsafe for human consumption.
When you buy from CBD BioCare you can feel confident that our products are not only legal, but also that it is the finest quality product available.
Ingestible CBD must be distributed or sold in packaging that includes:

• A scannable barcode or quick response (QR) code that links to 3rd party testing results.
• Product batch or lot number
• Internet address where batch information can be found
• Expiration date
• The milligrams of hemp extract per container
• A statement that the product contains less than .3% THC